Tapes Re-Mastering Information and Management System (TRIMS)

Our own iLaunch's IT development team with the input from our geologist/geophysics team which 100% Local Malaysian has develop a system that can cater the seismic cataloging exercise/activities.
Concurrently iLaunch has developed TRIMS (Tapes Re-Mastering Information and Management System).  The immediate goal of TRIMS is to produce various report listings to assist the project team. TRIMS can be accessed via internet using either the notebook or a mobile phone.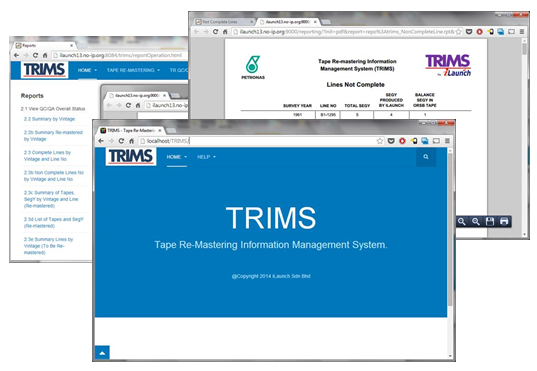 Features
TRIMS will be developed to provide an integrated IT solution for  Tape Re-Mastering project and initially TRIMS will comprises of the following modules :-
Users Access Module (UAM)

Files Maintenance Module

Tape Re-Mastering Operational Module

Tape Re-Mastering QA/QC Management Module

Reporting Module.
The strength of TRIMS
Data Classification & Sorting
The personnel behind: has a vast knowledge on data type, data format etc

Data classification & sorting will be tied with blocks, fields & wells
Storage Management (cover both the Digital & Physical form)
Digital form (ready to be load to application software): Server

Physical form (need to be digitized first): Cabinet, Files etc
Indexing, Cataloging & Labeling
Simple & meaningful

Uniform for both digital & physical form
Database Management
Reliable Architecture & Infrastructure

Monitoring & updating on regular basis
Data: Search & Find Ability
Simple, precise, accurate

Fast
Very user-friendly for New Data Input into the Existing Data Management System.